05 Nov

5 Free Horse Apps I Can't Live Without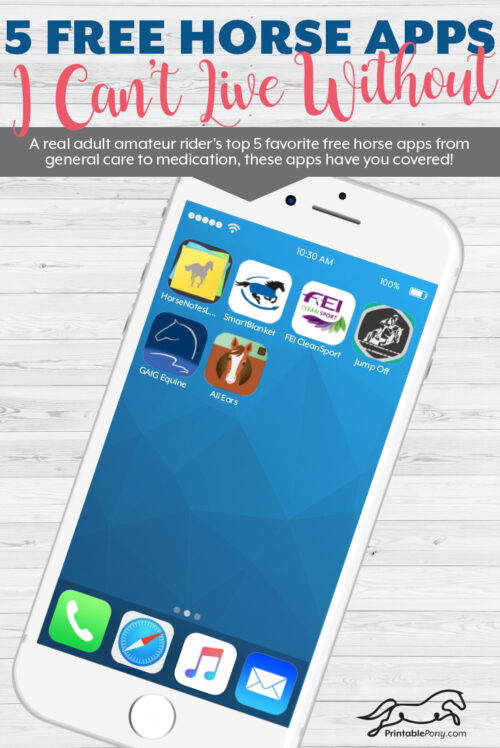 From email at work, Facebook at home and Google Maps GPS on the go, the average person relies on technology to accomplish everyday tasks now more than ever before. If you'd asked me five years ago how often I checked my social media profiles I probably would have said once a day; 10 years ago I didn't even know what MySpace was, let alone Facebook. Today, I'm constantly checking my phone for updates and I feel slightly lost when I actually have to turn my phone off .
Seeing how my iPhone has become so integral to my everyday life, it's no surprise that I use it religiously to support my equestrian lifestyle as well. My horses have their own Google Calendar so I never forget a lesson or farrier appointment, I keep copies of important documents on Dropbox and I use Evernote to store quick access to membership numbers.
But over the last year of horse ownership, I've come to rely on more than just the apps and websites I use to help organize my entire life. My iPhone is now inundated with equestrian-specific apps that I've come to love. And since I'm cheap, I only download ones that are free. So what free horse apps do I use every single day that I can't possibly live without? Here are my top 5:
#1: HorseNotes Lite
I'm only responsible for one horse and he's at a boarding barn, yet sometimes I still find myself asking "When did I change my horse's feed again?" or "When is he due for a trim?" The HorseNotes Lite free horse app makes all of this easy to find and will send you reminders, if you so desire. You start by adding horses, which can be a little time consuming because you input everything there is to know. Basic stats like age, followed by vaccination records, dental appointments and farrier visits.
Then when it gets close to scheduling an appointment, the app sends a notification to my phone. Brilliant! Now I never forget to call the farrier and I'm always on time scheduling my vet appointments. The best part? You can add in custom notes! Anytime I change my horse's turnout schedule or feed, I make a little note of it so I can look back a year or two from now and see exactly what I did, when.

#2: SmartBlanket
I live in Ohio and we get winter here, and by that I mean more cold weather than Florida, but less snow than Canada. Sometimes it honestly feels like we have two seasons: summer and winter. So for approximately six months every year, I agonize over which blanket my horse should wear. It's a painfully difficult process than can lead to serious bouts of anxiety.
Enter SmartPak. The genius' over there recently released a free horse app called SmartBlanket, designed specifically to help you chose which blanket your horse should wear. This brilliant mobile app takes the guess-work out of blanketing and gives horse owners around the world piece of mind. You start by entering basic information about your location and horse, and voila! Like magic the app tells you what your precious ponykins should wear day and night.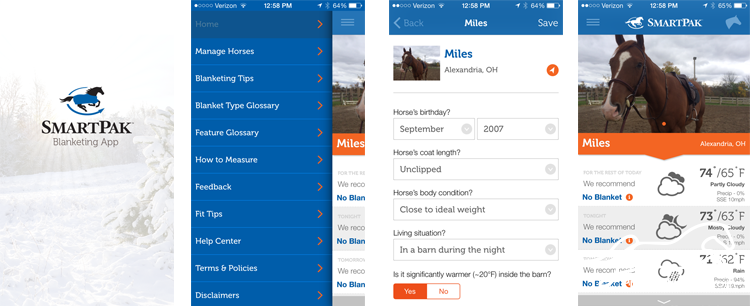 #3: FEI CleanSport
My next free horse app really only applies to those equestrian who compete, but seeing as horse showing is a big part of my equine endeavors, I thought it remiss to not mention it here. The FEI CleanSport app is a searchable database composed of all banned substances for FEI USEF events. It includes technical, scientific names as well as common trade names (i.e. you can type "caffeine" into the search and it brings up the listing for "methylhexaneamine").
While I don't use this app on a daily basis per say, it is quite useful to have handy. I've used it a few times when looking at new supplements, in discussion with other owners at the barn, and even a few times at shows to help refresh my memory ("How long does Banamine stay in the system?").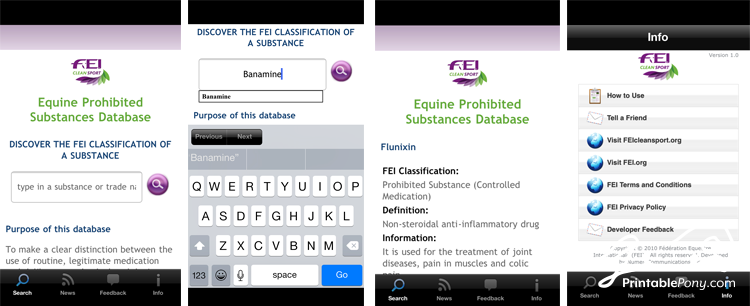 #4: Jump Off Pro
While this app only applies to my fellow hunter/jumper riders, Jump Off Pro has so many cool features, I simply couldn't leave it out. This mobile app gives you the ability to turn your jumping courses into an interactive training tool. Take a photo of your course and upload it, or create it from scratch. You'll never go off-course again using the "visualize" feature, which puts you on the horse and allows you to turn your phone to simulate where to look as you're on course.
You can save courses, to practice back at the barn while waiting for your class, or to re-create them at home for practice. This app is truly cutting-edge and changes the game for hunter/jumpers at horse shows.

#5: Great American Insurance Equine Division
The final free horse app I absolutely cannot live without is Great American Insurance's Equine Division app. This is really more for my piece of mind than anything else, but I take comfort in knowing that I have my horse's insurance information on hand at all times. I input my contact information, as well as my insurance policy number, and the app pre-populates the rest!
It includes pertinent documents, my agent's contact information plus the status of any claims I have pending. Supposedly you can also submit a claim via this free horse app, but I haven't had occasion to try it (knock on wood). Obviously, this app is only useful for those who have equine insurance underwritten by Great American, but I still like having the information close by… just in case!

Bonus Free Horse App: All Ears Selfie
We all love to snap pics of our horse while we're out at the barn. But when you're by yourself, it can be hard to get your horse to cooperate. Usually they have the WORST expression on their face right as you snap the button. Enter the All Ears Selfie free horse app. It makes noises to get your horse's attention so you are guaranteed to get an ears up, happy expression in every, single photo.
Bonus? It works on barn dogs too!

What's your favorite free horse app?