21 Nov

Rider's To Do List

We all have strengths and weaknesses that affect every aspect of our lives — including riding. I'm at my best when I'm organized, have a plan and set clear goals with realistic expectations. I'm not always good at coming up with creative riding ideas on my own or staying motivated to ride when I don't have something to look forward to, like a lesson or a show.

So with my trainer headed out of town for Thanksgiving, I decided to work with her to come up with a Rider's To Do List for myself. What should I work on while she's away? What exercises would be most beneficial? This list will help me be my best equestrian self while she's gone, instead of just toodling around for two weeks and wondering why I'm so terribly out of shape when she returns.

What's on my list? It's a lot of basics, but I'm excited to have some goals down in writing and hoping I can impress trainer when she returns with at least a little bit of forward progress:
Hand position
Weight down in heels
Maintain forward
Transitions within gaits
Sitting canter
These aren't mind-blowing ideas, but I like having them fresh on my mind. The next piece my trainer and I discussed were exercises to help me focus on these points and improve them. Sometimes it's hard for me to be creative on the flat, so having a list of ideas will help me not get stuck doing the same routine over and over:
Change every 5 strides (speed of gait or seat position)
Gallop ground poles (work on moving up to each pole)
Two-point, no stirrups, up/up/down (for leg strength)
Dressage tests (riding patterns ensures I'm always changing something)
Ride with friends and critique each other
Again, not that these ideas are ground-breaking, but when I'm feeling lazy after a long day at work, picking an exercise or two from the list makes having a productive ride really easy.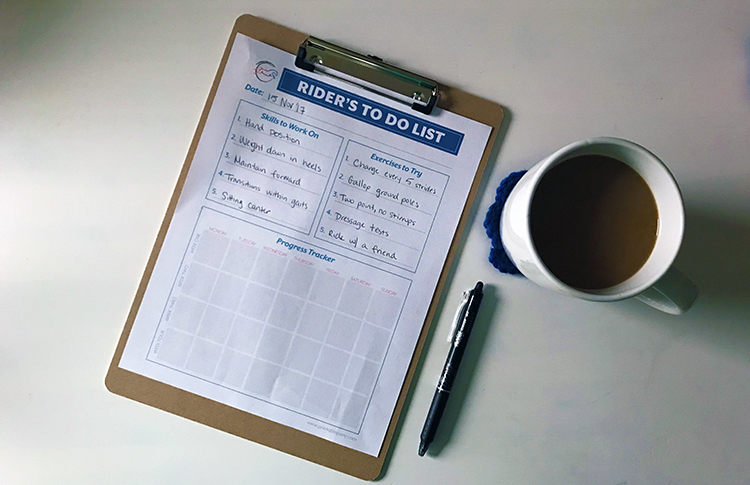 While these are all things we've been working on in lessons, and exercises we've been practicing, I appreciate having them written down in a list that I can easily refer to. In fact, I liked the idea so much that I put together a free Rider's To Do List printable, wrote in my trainer's suggestions and hung it up at the barn. Now I have no excuse to not improve while my trainer's gone!
Download