26 Dec

Settling In

It's been a big week for Niko, full of big life changes, but he's handled it all really well so far! As a four year old, there's a lot of the world Niko hasn't seen yet and so many things he just hasn't experienced… it's a little overwhelming to realize all the first impressions I'm now responsible for. We're taking things pretty slowly — I want to preserve Niko's wonderful temperament and set him up for success every single day.
Living Arrangements
Niko came from all-day turnout with free choice hay in a small barn and program. Now, he gets morning turnout for about 4 hours with three feedings of hay per day AND lives at a huge boarding barn. At first, you could almost hear Niko saying "Ma, we're not in Kansas anymore!" And while we haven't done a ton of walkabouts around the property yet (thanks winter), he's much more comfortable in his immediate surroundings.
He's also adjusting really well to less turnout and has new BFFs to play with in turnout. His new favorite is a bay Thoroughbred eventer named Tiger. The staff at the barn reports that he's a perfect gentlemen for turnout, which is great.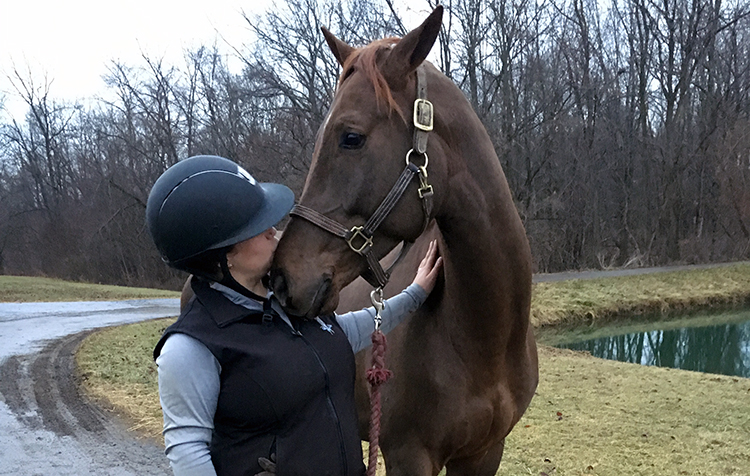 Clothing and Attire
Another item we checked off the list was figuring out what the heck this poor horse was going to wear! His owner/trainer generously sent him with a nice Baker stable sheet and a heavyweight turnout, but of course none of my other blankets fit. A quick emergency trip to Equus Now! had us sorted out with proper blankets, thank goodness. I was able to punch holes in my Lund Saddlery bridle and an older martingale, but I needed a new girth and his favorite bit: a Herm Sprenger Duo.
I'm still working on a saddle solution… unfortunately my lovely Prestige Meredith just doesn't seem to be fitting well, so I'm having a saddle fitter out soon to address what we can do to make this saddle work the best we can while we hunt for a new one.
Riding and Arenas
As I mentioned, Niko came from a wonderful small program with great facilities… just no indoor arena. With it being winter, I'm almost exclusively riding inside these days, so the first order of business was getting used to our two indoor arenas. Two rides in each, and Niko has settled in really well! The wall of mirrors is NBD, and while we're still a little bit unsure about wide open doors, he's getting more confident each ride. I'm not making a big deal about it — we just make wide berth around the doors, cut the arena smaller, etc.
We're currently just focusing on flatwork — Niko is a different ride than what I'm used to, so I'm taking my time getting to know him. We had our first lesson last week before Christmas and it went super well!